What is the Study Center?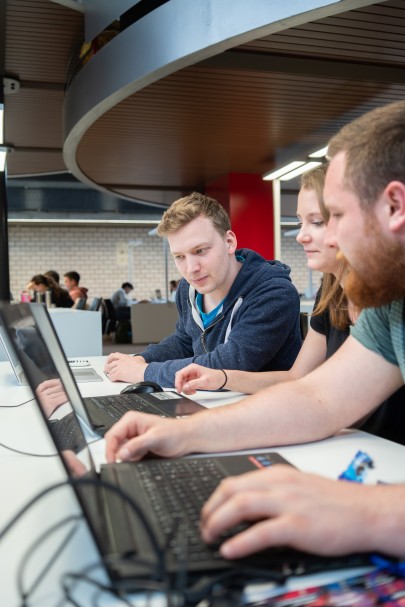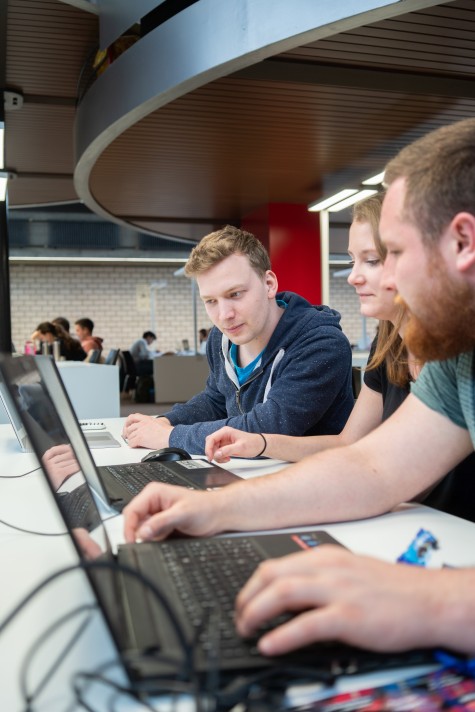 The Study Center (in german: Lernzentrum Maschinenbau, shortcut: LZMB) is open for all students of the TU Darmstadt.
The room L3|01-A99 is provided by the mechanical engineering department open for students who need a place to work or study for exams. We also have a small reference library and collection of exams designed for all students of mechanical engineering and industrial engineering with the specialization on mechanical engineering. Furthermore there are bulletins for bachelor- and master thesis, internships and other offerings at the university.
For departments, institutes and companies we forward appropriate offers to the student.
We welcome everyone who is interested in a quiet working atmosphere. The room itself is open 24/7.
The Mechanical Engineering Faculty provides another group study center in L1|01 R74.
Help Desk opening hours
Monday
Tuesday
Wednesday
Thursday
Friday
08:00 – 12:00

12:30 – 16:30
08:00 – 12:00

12:30 – 16:30
08:00 – 12:00

12:30 – 16:30
08:00 – 12:00

12:30 – 16:30
08:00 – 12:00

12:30 – 16:30
Lending Conditions for Books and Protocols
Exam Protocols
Books
The protocols have to be returned on the same day.
Books can't be lend as the Studying Center is a reference library. Books still can be used normally in the center. To lend a book please bring your Athene-Card.

As with the exam protocols, books have to be returned the same day.
Services provided
Amongst other we own minutes of memory and file folders with written exams which you can loan and copy. They have to be returned the same day!
We provide a copier to copy the minutes of memory and written examinations. It operates with your Athene-Card. Besides this it is able to scan onto an USB-Devise or an email-account and print data from a capable USB-Device. The fees per copy are as follows:
DIN A4, b/w: 0,03 Euro
DIN A4, Color: 0,20 Euro
DIN A3, b/w: 0,08 Euro
DIN A3, Color: 0,50 Euro
A detailed manual is posted on the wall near the copier.
Important:
It is possible scanning to your USB-Device does not work. The copier only supports the file formats FAT 16 and FAT 32, not NTFS! Unfortunately it does not work off a special storage anymore.
Some email providers reject emails off a special size, so your scanned file will not attain.
You can only print files in PDF-format.
The reference library contains about over 1000 books to study and for research. They can be used during the opening hours oft the learning center. You can look them up on the ULBhomepage.
If you are looking for a specific book you can use the Advanced Search.
Use "Lernzentrum Maschinenbau" as your first criterion and as your second criterion use the title of the book.(As seen in the Picture)
All the results that have "Lernzentrum Maschinenbau" as "Holding" can be found in our library.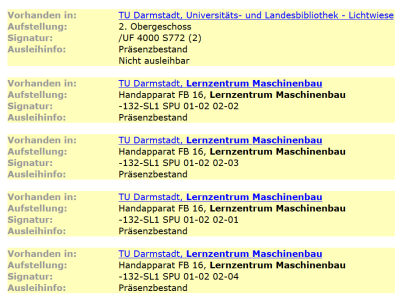 Furthermore we provide a list of companies where our students had internships. (opens in new tab) You will also find their experiences there. Of course the list is incomplete, but it can be extended if we get new information from you.
With great effort we made contact with about 200 companies in the field of mechanical engineering and related fields to get regularly new offers for internships, bachelor- and master thesis, assignments, diploma thesis and job offers. You will find the overwhelming result on our bulletin boards. Have a look at them, you should be able to find something suitable for you.
We also recommend looking at thekonaktiva webpage as well. You will find a catalogue of companies in the field of mechanical engineering on their website. They also organize a big fair where you can meet companies once a year.
So that you don't have to carry your study materials back and forth every day, lockers in different sizes are available.
You can rent them for up to 6 months for a deposit of 50€.
Just send an email to an lernzentrum@fsmb.tu-…if you want to rent a locker.