Update for the current Situaiton – Study Center
2020/05/11
"As AStA we have been running a survey for a few weeks now, in which we ask 3 short questions about the implementation of digital teaching. We are doing this because the university does not evaluate the courses during the semester, but especially now, when familiar structures are being completely revised and untested ones are being used, we consider it urgently necessary.
We are getting more and more feedback from courses, some of which only indicate book chapters or pages in the script and note that from June 1st they will again be holding their lectures with sometimes more than 400 students in attendance. We do not see this as fulfilling the educational mission of the TU Darmstadt and are working very hard to improve the situation.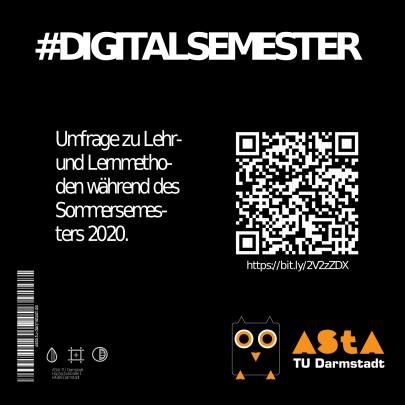 However, in order to have more reports and evidence of what the TU Darmstadt's much-praised digital teaching actually looks like, we need you to distribute this survey. If we receive concrete events in which we feel that the teaching is not sustainable, we will gladly pass on the feedback to you so that you can improve the teaching in your department."